Turf Books
Specialized Accounting Services for Lawn Care Professionals
Turf Books accountants, with more than 20 years of lawn care industry experience, are the experts in handling the numbers as well as preparing your tax returns.
We know the ins and outs of the numbers you need to manage in order to be a profitable firm. The Turf Books team will work with you to help your lawn care business reach it's highest growth potential. Contact Us Today!
Turf Books Bookkeeping Services
We will work directly with your in-house bookkeeper to organize, your books and project your long-term financial picture to give you the fiscal confidence you need to grow your business. Learn More
With Turf Books Accounts Payable System, you'll get a system that is easy to use and efficient. In fact, not only is it easier, but our bill paying system typically costs hundreds per month, not thousands. The process is easy, e-mail or upload your vendor invoices, Click to pay…That's it!. Learn More
We don't just manage "the books," we are ACTIVE members of the industry! You can find us at many of the Lawn Care Industry events and trade shows. If you are attending, make sure to look and see if we are there! We are always willing to answer your questions!
 Our Bookkeepers and CPA's are able to manage various cloud based applications including but not limited to the following :
Our Services Go Beyond Just Bookkeeping and Accounting! 
In order to run a successful business, you need a clear view of your financial health. It's critical in today's competitive marketplace.
Do you measure your company's success by critical key performance indicators as well as other industry-specific statistics? That's how we look at things and are important indicators of success. Profitable revenue, healthy accounts receivable, and accounts payable are also important indicators.
Most in our industry can grow a company.  The question is can you grow profitably?  The question is do you have the policies and procedures in place to create profitable growth?
The financial discipline and protocols is what we help you with to make sure that the money coming in the front door contributes to profitability and doesn't leak out the back door.
It's all about focusing on the results of your efforts and the reports that we provide you with to make managing your growth an achievable goal.  These reports allow you to focus on cost containment, tax minimization and manageable growth.
Baseball teams keep score by counting runs.  Football teams keep score by counting touchdowns.  When you have your own business, counting money is the way to keep score.  It is extremely important for you to know where you stand from a financial perspective.  Budgeting and setting goals is a critical component to your financial and operating game plan.  Knowing what you want to accomplish strategically is absolutely vital and measuring against this objective is paramount.  Our experts can help you formulate a budget and set realistic goals.
"Signing up with Turf Books has be one of the best investments we have made in our business. Dan and his team were there when we needed them most, helping make our transition from our old accountant and bookkeeper to Turf Books quick and seamless. Our old accountant would always ask me "how did you do this month", Turf Books tells me how we are doing, and how our numbers stack up against the rest of the industry. Due to their industry involvement they are also a great resource for other industry information, best practices as well as other "Go to people" in the industry. We wish we did it sooner."
Brad and Mark Leahy
"Dan Gordon and Turf Books have helped take my business to a new level with a focus on improving accounting, operations and financial management. If you are looking for one of the finest service providers in the industry, get Turf Books on your team. They listen are down to earth and provide crucial feedback to help grow your business!"
Matt Jesson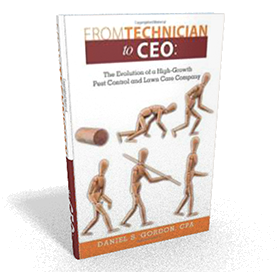 Learn the Keys to a Successful Lawn Care Company from Dan's Book!
CEO, Dan Gordon of PCO Bookkeepers and Turf Books discusses the best practices for getting your business on the right financial track. In addition, all proceeds from the sale of "From Technician to CEO", will be donated to the Non-Profit Valerie's House,
Recent Blog Posts
Learn from the top thought leaders in the industry.
Lessons learned from the 2017 employee compensation survey. Designing effective compensation and benefits packages are paramount in contending for the best talent in today's competitive labor market. As the economy improves, the demand for landscape services rises,...
read more